Welcome to Barbados .. !
NEW! SLINGSHOT kite surfing kit for sale ORDER YOURS TODAY - Check our shop/ sales page or
Contact us
for details...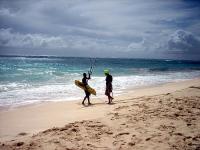 Barbados is situated to the east of the Caribbean sea in warm azure tropical seas. Renowned for it's hospitality, nightlife and beautiful tropical beaches, Barbados is the place to learn the sport of Kite Surfing and Endless Kiteboarding is one of the Caribbean's premier kite surf schools.


Blessed with constant trade winds, an average temperature of 30 degrees and a warm sea it has attracted a new breed of tourist - the kite surfer - seeking out locations across the globe and settling on our warm tropical island.
Endless Kite Boarding is based at Silver Rock in Christ Church,to the south of the island, ensuring smooth cross shore winds making it a safe place to learn to kite surf. There are plentiful taxis and buses and if you're staying close you can even walk. The Silver Rock Hotel is perhaps the closest with our school being a minute walk away.
A Barbados Briefing
Barbados is a coral island, pushed out of sea by volcanic activity in a far away time. On the West Coast of Barbados, coral shore beaches of fine white sand stretch along a blue-green sea. Coral reefs fringe the Barbados shoreline to provide excellent snorkeling and Scuba Diving. Along the East Coast a lively surf is blown briskly by the strong and constant trade winds and the waves pound against a rocky shore. The constant breeze of the trade winds give Barbados a mild and pleasant tropical climate.

When you visit Barbados, you will see it is mostly a flat coral island with excellent beaches, but there are rolling hills and many deep ridges and gullies, with an interesting distribution of flora and fauna. Within the Barbados coral core there is a vast array of caves and underground lakes which provide an excellent supply of drinking water that is amongst the purest in the world. Geologically Barbados is unique, being actually two land masses that merged together over the years. This and other anomalies make this Caribbean Island quite phenomenal, and there are geological structures that you will find only in Barbados.
(Extract taken from http://www.barbados.org)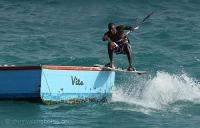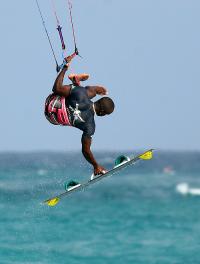 Roland Boyce: Endless Kiteboarding Instructor and Owner
Call:(246) 420-3253 or (246) 251-7190
Email: info@endlesskiteboarding.com

Endless kiteboarding is an authorised dealer for;